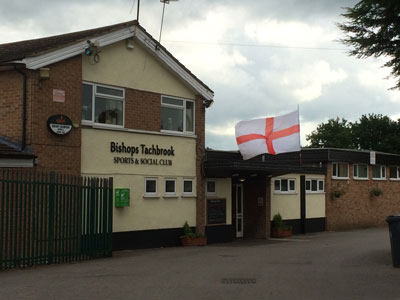 Found on the Meadow in Bishops Tachbrook, Bishops Tachbrook Sports and Social Club is the ideal meeting place for the local community. Being the ideal local venue to celebrate a birthday or commemorate a loved one's life after a funeral at the nearby Oakley Wood crematorium.
The home of Bishops Tachbrook Brownies, Rainbows, Tachbrook Tinies as well as Football and Cricket teams.
It also accomodates teams that participate in Pub Games including Snooker, Pool, Darts, Domino and Crib Teams
Opening hours:
Monday - Thursday 7.00pm - 11.00pm
Friday 5.00pm - 12 midnight
Saturday 12.00 noon - 12.00 midnight
Sunday 12.00 noon -11.00pm
Please note a card machine is now avaiable
Don't forget children are welcome,
COME AND HAVE A GREAT NIGHT OUT
We have a newly decorated family room with jukebox, TV, pool and darts, 2 full sized tables in the snooker room plus our spacious members lounge, which also has a big screen for sports.
  Entertainment starts at 8.30pm. Bingo every Sunday and Tuesday at 8pm
Advance Warning
On Saturday 2nd   August the Sports and Social Club will be commemorating the start of World War 1.
With live music and sing along, fancy dress and food too, put this date in your diary and remember to come and join us as we turn back the clock